In 1973 I sailed to French Polynesia on a fifty-four foot ketch.  I had recently graduated from the University of Hawaii with a degree in fine art (BFA-Ceramics) and had studied Oceanic art in my senior year.  I was looking forward to seeing the tattoo art there, especially in the Marquesas Islands. I had with me Dr. W C Handy's Bishop Museum Bulletin on "Tattooing in the Marquesas" published in 1922 and I studied it while sailing into the Southern Seas.  By the time we reached Fatu Hiva – after stops in Tahiti, Moorea, and waiting out storms in Takaroa – I expected to see many people wearing traditional tattoos.  There were none.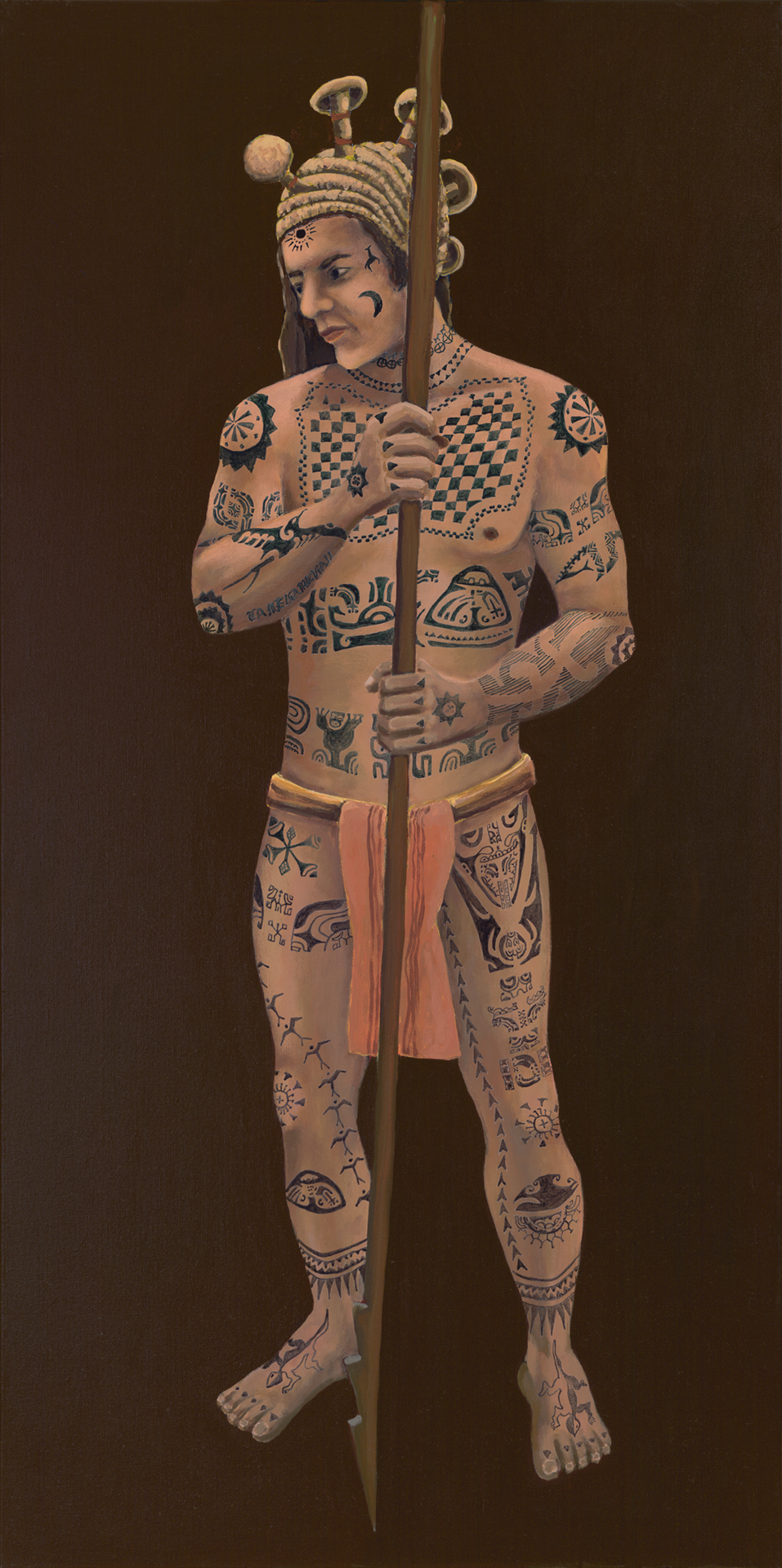 Tattooing had been outlawed in French Polynesia in the 1880s, and though Handy had mentioned this in his bulletin, I thought that there would be a remnant carrying on the art.  At that time all the tattoo motifs had been transferred to the wood carvers on each island, and they kept the designs alive.
Very few people visited the Marquesas back then.  There were no hotels or restaurants, and the only way to get there was by yacht or trading steamer.  Tattoos were not popular at that time either, and the owner of the boat I worked on would have left me there if I had got one.  It's much different today.  Today you'll see people with Marquesans' designs on their bodies all over the world.
I first used tattoo designs in the architectural ceramic murals I was commissioned to do in Hawaii in the late 1970s. From there I began using the designs in my pottery and paintings. My images and three-dimensional work reflect my feelings, admiration, and respect for the artistic traditions of the various island cultures that have become an important part of my life.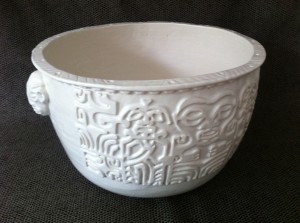 I work in mediums that were not available to island artists before Western contact.  I've always thought about what kind of art they would have made if they had had clay and canvas and paint?  The tropics dictated another type of art, one perhaps closer to the land.  As in most indigenous art, Polynesian art reflects the relationship between the people, their land, their gods and the events that shape their culture.  Today, in using the patterns, symbols and images of the past, I honor those relationships and use them to keep me in touch with my environment and the shared culture in which I live.
I hope you enjoy my work.  Prints of the paintings are available, as are the pottery and petroglyphs.
Aloha,
John

var _gaq = _gaq || []; _gaq.push(['_setAccount', 'UA-37275165-1']); _gaq.push(['_trackPageview']);
(function() { var ga = document.createElement('script'); ga.type = 'text/javascript'; ga.async = true; ga.src = ('https:' == document.location.protocol ? 'https://ssl' : 'http://www') + '.google-analytics.com/ga.js'; var s = document.getElementsByTagName('script')[0]; s.parentNode.insertBefore(ga, s); })();